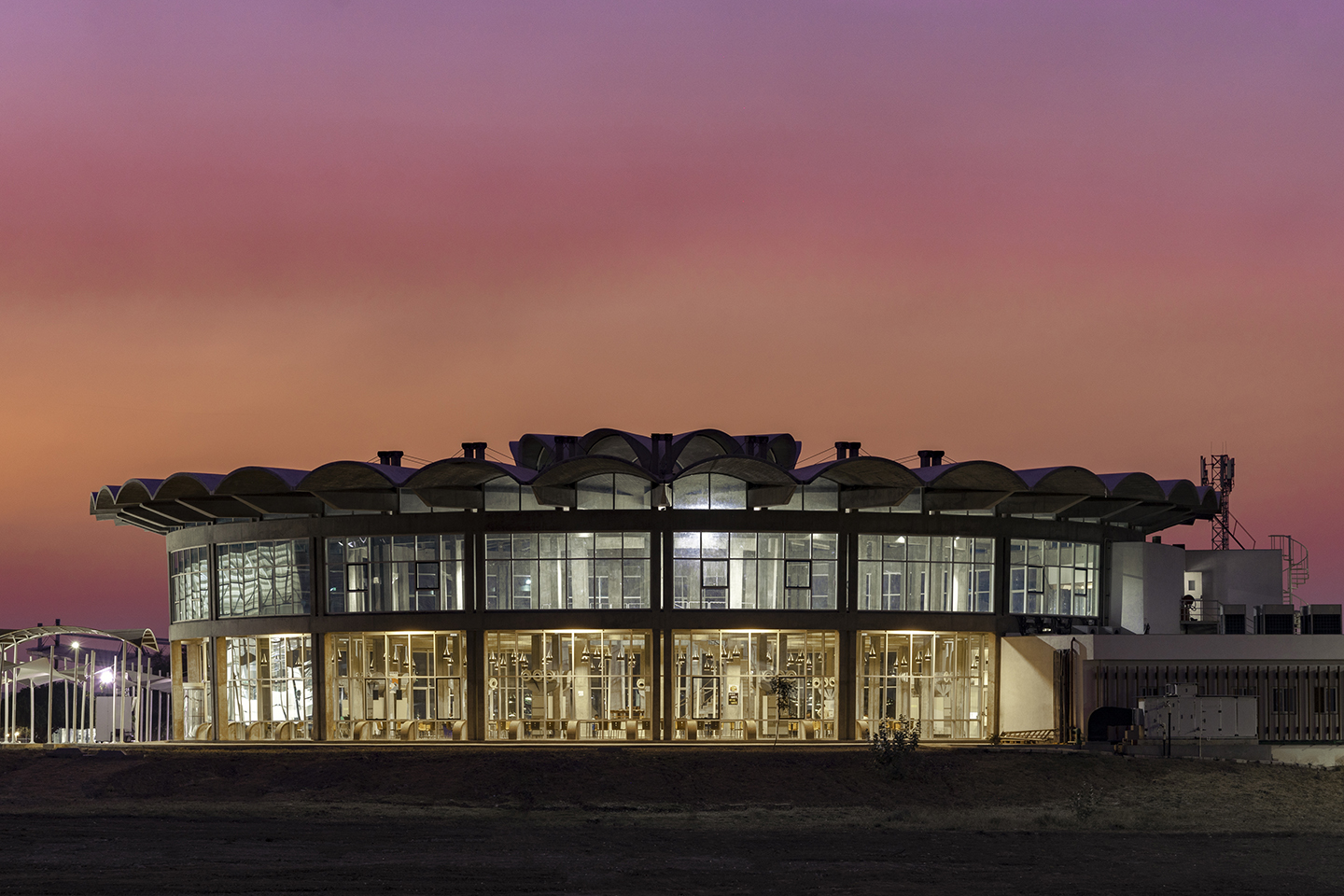 Secure's vision for this was quite simple, make a space that allows people to relax and unwind during their workday. The canteen is thought of as an extension of the main factory, but break ing from it in language. It sits alongside the rigid repetitions of the factory bays, and be playful.
To emphasise the break between the two, a CORTEN canopy welcomes all factory workers to the canteen. The canteen is conceptualised as a break from the aus tere whiteness of the factory, rich tones and textures of exposed concrete break through the Kota stone floor and guide the eyes to the beams playfully bending through the round building. At their apex, the eyes whizz around the concentric vaults, with lig ht and shadow making ever changing patterns.
The canteen rethought how food is made, plates washed and waste disposed off. Factory workers eat a full hot meal, are able to clean their own waste and measure what waste they have contributed to. This has led to a reduction in waste production.
We employed a radical approach to cooling, with a hybrid solution of air conditioning, pre - cooled fresh air intakes and radiant cooling for the floor and a stack effect, pushing hot air through the cent ral atrium and out.
At the start of Covid, the as yet incomplete building was rethought of as temporary workers accommodation to ensure the factory kept running in a safe environment. For this we designed and built 2mx2.5m single pe rson cubicles that could home 300 people on site, without the risks of everyone returning home daily. This allowed people to continue to earn their wage and the factory to continue to serve customers.
Sanand Canteen
Client:
Secure Meters Ltd
HVAC Consultants:
Anjaria and Associates
Structural Engineers:
AMI Engineers
Principle Contractors:
Sarnar Buildtech
Water Consultants:
Avani Enterprises