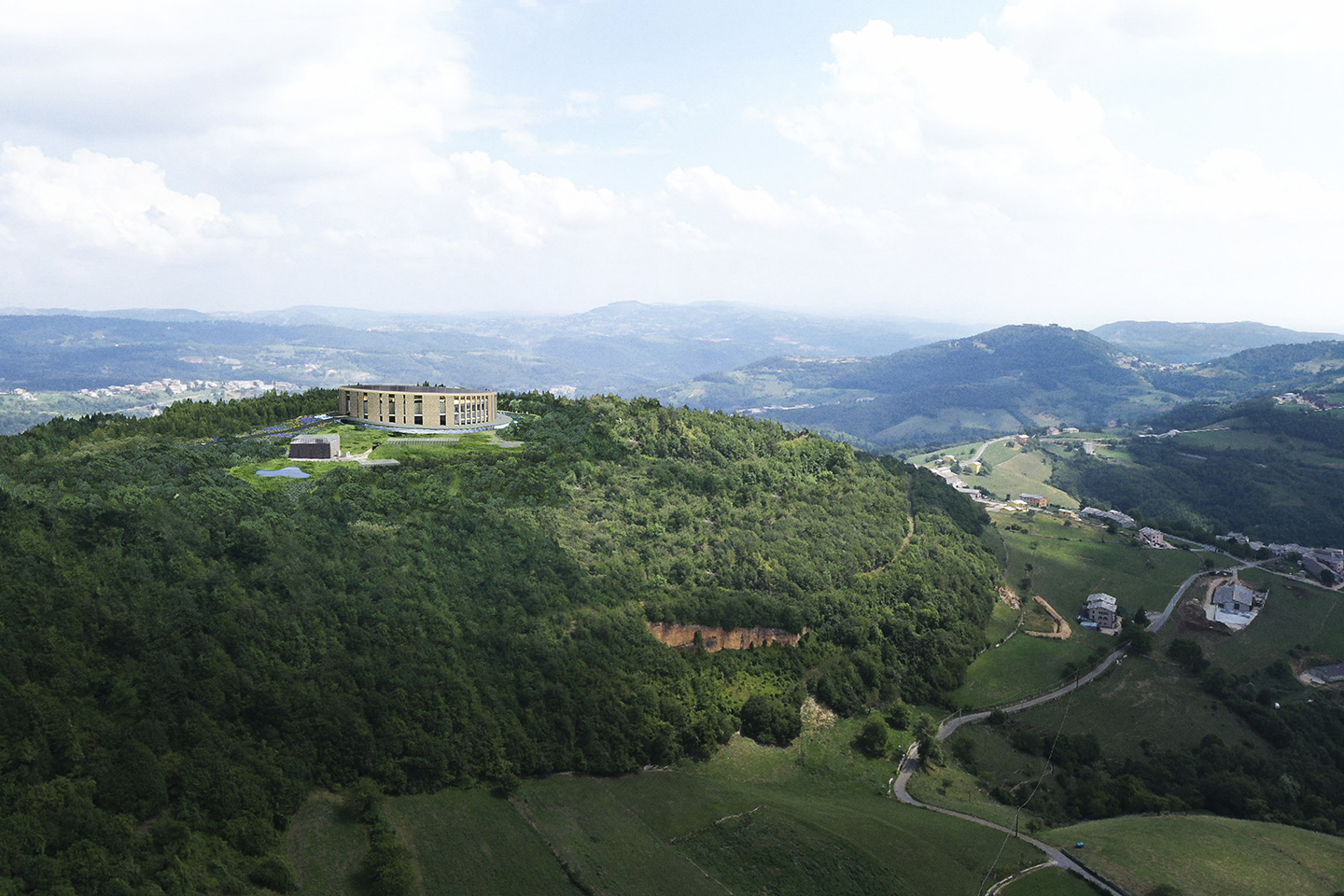 How much data is useful? Who cleans and searches through the vast quantities to help steer our species forward to a brighter future? Forward not just on a sustainable path but on a truly regenerative one. We propose a research centre for a wide variety of people from local residents, to tourists, to international academics and artists. Believing that multi-disciplinary groups offer the richest conversations and can create innovative solutions by interpreting the vast streams of data from the world wide web.
Located in the foothills of the Italian Alps, it's an area surrounded by Lessinia forests and known for its limestone quarries and forests.. We proposed a 'timber in the round' space frame supported by a ring of load bearing limestone perimeter walls. All materials are sourced within 20km of site and require minimal processing.
The AI future: Data is fast creating a world where AI is having a significant role to play in our daily lives. The new great acceleration provides fantastic opportunities for humanity but also comes with great risks. The need to be connected to the health of the soil and the web of life we depend on is of paramount importance. We need new pathways to walk on; our proposal seeks to provide a new typology that puts data centres at the heart of communities working toward positive change and allow the research into the role AI plays in supporting this endeavour.
History remembered in the landscape: This site has long been lost to the public as the historical satellite photographs show below, see fig.3 and 4. We aspire to put this site truly on the map as a destination focussed on restoring the affected ecosystems caused by climate change. Marked by historical uses the site has fascinating layers and stories to celebrate and reveal. Used as a run way during WW1 and with NATO antennae locations and bunkers can be found. We propose to respect these layers by revealing them within the landscape plan and retro-fitting them sensitively with new programmes.
A new public park: The existing site has been grazed for decades and now there is an opportunity to allow natures abundance to take hold. Setting up nature's capital and infrastructure to support life in abundance is crucial to ensure increased levels of bio-diversity. We propose to let 75% of the site return to forest and the rest given over to meadow park land. Paths spiral round the slopes of the site providing a 5km length of new walks for visitors to enjoy.
A site for nature and community: Maximising the potential of the site is key to our brief which is oriented toward the vitality of the Alpine natural and community ecosystems. We aim to bring new energy and spirit to this long forgotten site in the hope it becomes an engine for change. The centre has data servers at its heart, symbolically placing the information exchange they facilitate at the centre of the building; in view of all users and visitors. The site provides spaces for relaxing, sleeping, eating, sharing, researching and working; establishing a vibrant community of change makers.
Data and Climate Research Centre